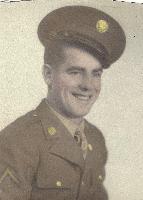 Serafim Ribeiro
Serafim Ribeiro, 99, of Yonkers, N.Y. died Tuesday April 11th at St. John's Riverside Hospital.
Born October 10, 1917 in New Bedford, Mass. Mr. Ribeiro was the son of the late Joaquim Ribeiro and the late Maria Dos Santos.
He was a World War II veteran. He was honored by the U.S. and France receiving many medals including the Bronze Star, Purple Heart, and the Rifleman's medal for sharp shooting. France awarded him the Napoleon Medal of honor which is the highest medal that can be given to a non-French citizen. He was involved in three invasions, serving under Patton. He was involved in the African invasion, the invasion of Sicily, and the Normandy invasion. He was wounded in Normandy and almost lost his life. After many operations and a year in the hospital he survived and, as many have said, is a true American hero.
He worked for many years as a mechanic for MaBSTOA in N.Y. City. In addition to his parents he was preceded in death by his brother, Joseph Ribeiro. Mr. Ribeiro is survived by his wife of 70 years, Julia, and his three sisters, Deolinda Santos, Erminda Cunha, and Rosalina Veiga. He is survived by his son Jack and his son Joseph and daughter-in-law Janet Ribeiro. He is also survived by 6 grandchildren and 8 great grandchildren. He is also survived by many nieces and nephews.
Visiting hours will be Monday April, 17, 2017 at Sinatra Funeral Home at 601 Yonkers Ave from 2 to 4 and 6 to 8. The funeral mass will be Tuesday, April 18 at 10:45am at St. John the Baptist church at 670 Yonkers Ave.