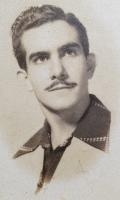 Digno Alvarez
Digno Alvarez
September 22, 1930 – April 15, 2017
Digno Alvarez, 86, a resident of Yonkers, New York passed away at home in the early morning hours of April 15, 2017 after a long and difficult struggle with cancer; he was surrounded by his family.
He was born in Matanzas, Cuba on September 22, 1930 to Pablo Alvarez and Maria Concepcion who preceded him in death. He was the second to eldest of nine boys and one girl.
On February 14, 1962 he married his soul mate, the eternal love of his life Aracely Fernandez. Together they raised three daughters. Digno, his wife and three daughters, immigrated to the United States on July 7, 1968. He lived in Yonkers, NY for the remainder of his life.
Digno was a member of Local 60 and Local 731 for many years. After his retirement from construction he worked for Royal Coach Bus service as a school bus driver. He loved his young passengers and looked forward to seeing them every day. He was referred by his closest friends as "Capaña, Campañita or Camaleon". He loved music of all kinds and absolutely loved reading. He was a man of little education but undisputedly very well versed. He was able to discuss any given topic, politics was his favorite. He had a big heart and a gentle soul. He was a man loved by all. He loved nature, socializing and a good Cuban Cigar. Jokes were his passion and sharing his many stories was his favorite past time. Most of all…he loved his family, his friends and appreciated life to the fullest. He ALWAYS said "a millionaire is not all about money it's about the non-material things we have in life. It's about the quality of the life you live and who you share it with". He considered himself a multi-millionaire with the family and friends he was blessed with.
Digno is survived by his beautiful devoted wife, Aracely; their three daughters and sons-in-law, Olga (Joseph) Zeolla, Odalys Grieco, Omaira (Brendan) McPartlan; seven grandsons, Alexander Grieco, Luke, Ryan, Brendan, Christopher McPartlan, Joseph and Michael Zeolla.
He is also survived by two sons and daughter-in-law; Jorge (Lysandra) Alvarez and Elieser Alvarez; four more grandchildren; Yarelis and Jorge II Alvarez, Lissy Cabeza and Elian Alvarez. In addition, he is survived by two brothers and two sisters-in-law in the United States; Abilio (Xiomara) Alvarez and Ruben (Carmen) Alvarez and in Cuba he is survived by three brothers and one sister and was preceded by three brothers; he is survived by a multitude of nieces and nephews; and many more family and friends.
He was a small stature of a man but a giant in life. Like his grandson Alex said "Hero's get remembered and legends never die - Thank God Papa was both".
In lieu of flowers donations may be sent to one of the following organizations:
Jansen Hospice and Palliative Care—in memory of Digno Alvarez, April 15, 2017
Attn: Diana Diaz Serafin
670 White Plains Rd.
Scarsdale, NY 10583
914-961-2818
www.jansenhospice.org
The American Cancer Society—in memory of Digno Alvarez, April 15, 2017
https://donate3.cancer.org/