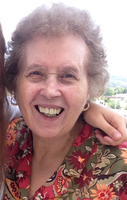 Victoria M. Batista
Victoria Batista left this world peacefully with her family by her side on November 18, 2017, at 81-years young.
Victoria was born in Portugal on October 18,1936 in a quaint town 1-hour north of Lisbon. The youngest of 4 children, Victoria matured at a young age when post World War II hardship brought her to work to help support the family. In her twenties, Victoria fell in love with Luis Batista and they soon began their life together as husband and wife. After having their first daughter in Portugal, the happily married couple headed to a town near Paris where they lived for several years before making New York their permanent home and extending their family to a second daughter. A consummate caregiver, Victoria spent much of her life caring for others foremost. This loving sister, wife, mother, grandmother, and friend, is survived by her brother, Cesar Martins Verissimo; her husband, Luis Batista; two daughters, Paula Sallaberry and Gida Batista; and 2 grandchildren, Connor and Kristen Sallaberry.
She will forever be missed and there will always be a void in our hearts. She was the soul of our family. RIP 1936-2017.