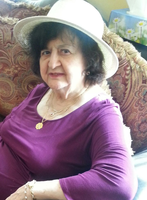 Ines M. Areizaga
On Saturday, December 2, 2017, Inés Maria Areizága Salinas, known to the world as Mamá, went to be with The Lord at age 85. After a tough battle with lung cancer, she passed away in Calvary Hospital located in the Bronx, NY. Inés was born on January 21, 1932 in Aguadilla, Puerto Rico to her Father, Catalino Salinas and mother, Maria Luisa Acevedo.
At the age of 15 she met Caridad Areizága, whom she married and had 16 children with. Inés became a beloved mother of 8 compassionate sons and 8 affectionate daughters. She was a proud grandmother of 52 grandchildren, 65 great-grandchildren and 2 great-great-grandchildren.
Inés was a devout Catholic. She was a Eucharistic minister, lecturer, C.C.D. instructor, and worked at the St. Josephs Soup kitchen. She served St. Joseph's Church for 53 yrs. Due to her illness she was unable to attend mass at times. However, she still received the Holy Eucharist in the comfort of her home. She was a warm-hearted angel, she was our matriarch, who loved to sing and dance, and that's exactly how she will be remembered.
The family will open-heartedly greet friends from 2-9 PM on Wednesday, December 6, 2017 at Sinatra Funeral Home, located at 601 Yonkers Ave, in Yonkers. Funeral services will be held at 11:30 AM on Thursday, December 7, 2017 in St. Joseph's Church located at 141 Ashburton Ave., in Yonkers.
Mamá will be remembered as "The Joyful Queen" of the Areizága family! May you Rest In Peace our beautiful Mamá, you will forever be in our hearts.