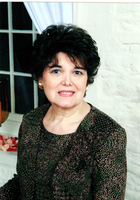 Mary Ann Lombardi-Mainieri
Mary Ann Lombardi-Mainieri, 82 years old, of Yonkers, NY, passed away peacefully with her three daughters by her side on January 26th.
Mary Ann was born on May 15th, 1935, in Yonkers, NY. She was the daughter of the late Pasquale Lombardi and the late Christina Spensieri Lombardi, and sister of Fanny, Dolly and the late Bernie.
Growing up in Yonkers, she graduated from Gorton High School and then went to the New York Phoenix School of Design in New York City, where she studied commercial and fine art. She then worked as a commercial artist for Norcross Greeting Cards.
Mary Ann had a beautiful voice and a passion for singing. At her high school graduation she sang, and yodeled and received a standing ovation from her graduating class. She continued performing at local establishments in the Hudson Valley with several groups and bands for many years.
She married Michael T. Mainieri Jr. in 1962. She had three children—Michelle, Maria and Melissa—and was a homemaker for many years until she returned to school to study dental hygiene in her early 40s. She worked as a dental hygienist until her retirement in 1999.
Mary Ann was a renaissance woman with a thirst for learning. She was a gourmet chef, baker, expert cake and cookie decorator, gardener, artist, calligrapher, singer—and most importantly, an amazing mother. She loved animals and fed any stray that came to her door. She was witty, liked to joke around and loved words; she had a knack for writing personalized poems for loved ones on special occasions or milestones in their lives. She also loved crossword puzzles, playing cards, and spending time with her family and friends. Her heart was truly boundless.
She is survived by her daughters Michelle, Maria and Melissa (David); her sisters Fanny D'Agostino and Dolly Ramirez; her nephews and nieces Edmund Ramirez (Nancy Ramirez), Nancy D'Agostino, Vincent D'Agostino (Arlene), Patricia D'Agostino, Dominick D'Agostino (Laura), Vincent Mainieri (Lisa) and Susan Mainieri; her great-nieces and -nephews Nicole, Nico, Debra (Tommy), Dina (Marc), Vincent (Madeline), Dominic Marc, Michael, Joey, Nikki (James), Bobby, Melissa and Dominick Mark; and many more great-great-nieces and -nephews, and cousins in Canada, Australia and Italy. Olivia, Isabella and Sophia … And last but not least, her very dear sister from another mother, Marylin Morello.
Mary Ann was loved by all who knew her. She was a kind, beautiful person, and her sweet soul will be missed greatly on this earth.
Visitation will be held on Thursday, February 1st, 2018 from 2-4 pm and 7-9 pm at Sinatra Hastings Funeral Home, 15 Spring Street, Hastings-on-Hudson, New York 10706