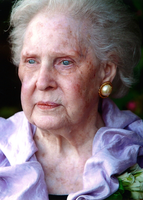 Lilyan G. McLaughlin
Lilyan G. McLaughlin
Born Lilyan Gertrude Wisemann on November 3, 1926 in the Bronx, NY, Lilyan passed away this February 5, 2018. Lilyan is survived by her two daughters, Mary Elizabeth Law and Lilyan Kathryn Moran; five grandchildren Laura Candelari, John Candelari, James Law and his wife Erica Ryan Law, and Kristen Moran; six great grandchildren Nicole Basset, Jared, Makayla, Tyler and Gabrielle Candelari, and the newest edition whom brought her so much joy and laughter Piper Ryan Law; two great-great grandchildren; her niece Betty Stafford, her husband Jack their two children Brian and Beth; and three great nieces and nephew, in addition to two nephews and niece and their respective families.
Lilyan grew up in the Bronx along the Concourse with her three siblings Minerva "Buddy" Wismann Benzingher, Frederick Wisemann, William Wisemann and her mother Minerva "Minnie" Simpson Wisemann before moving to Pleasantville, NY to finish high school.
When Lilyan married, she settled in Harrison to raise her three children Mary, Lilyan, and John. Lilyan worked for John Hancock but spend the bulk of her career working for General Foods in the accounting department. Many years after early retirement from GF, Lilyan moved the Chandler, AZ only to move back to the east coast a few years later to Sheffield, MA where she spent many years with daughter Mary and grandson Jamie before moving back to NY where she lived with her second daughter Lilyan for 16 years. I called her Gramma! She was and will forever be my compass, my strength, my heart. I am blessed to have had such a wonderful, caring, loving influence in my life and will cherish time years we spent together.
Lilyan G. McLaughlin lived a full life. She loved and is loved. Those family and friends closest to her will miss her deeply. A dear friend of the family described Lilyan as, "lovely and kind, the peace in the midst of any storm, with an infectious giggle and beautiful smile". Very true!