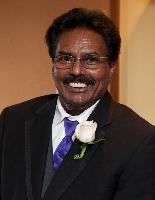 Devasir C. Jeyadoss
Devasir C. Jeyadoss, 68, of Mount Kisco, New York, peacefully passed from this life and into the Lord's embrace on April 10, 2017 surrounded by his family. He was known to many as Jey.
Devasir was born in Tamil Nadu, India on July 6, 1948. He married the love of his life, Navaroja Jeyadoss (Samuel) on April 5, 1978; they were married for 39 years.
Devasir dedicated his career to Northern Westchester Hospital and the former StellarisHealth System hospitals as a Network Engineer for more than 30 years. Being around his family and playing with his four grandchildren brought joy to his life. He was a true man of faith and was dedicated to serving Jesus Christ through various ministries at his church.
Devasir is survived by his wife, Navaroja; his two daughters, Rathna Fatato and her husband Louis, Johanna D'Aprile and her husband Danilo; his four grandchildren Hannah, Victoria, Elizabeth, and Gianluca; his two brothers, Manokaran and Tito; his two sisters, Selvi and Meritta; his uncle Jesudason Jeganathan; his nieces and nephews; and the rest of his relatives and friends.
In lieu of flowers, memorial donations may be given to the Northwell Health Walk at Westchester, NWH Team Tribe Five! (https://www.northwellhealthwalk.com/index.cfm?fuseaction=donorDrive.donate&eventID=508) and Westchester Family Church in Mount Kisco, NY (westchesterfamilychurch.org).