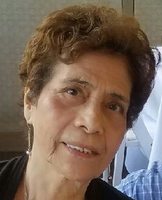 Ana M. Arias
Ana M Arias, 78, de Yonkers, NY fallecio Septiembre 19, 2017.
Ana nacio en Ecuador Enero 13, 1939. Fueron sus padres Bolivar Jara y Maria Hinostroza, ambos fallecidos. Se caso con Manuel Arias y procrearon dos hijos, Diana residente de Yonkers y Mario residente de White Plains.
La senora Arias emigro a Nueva York en 1968. La sobreviven su esposo Manuel, hija Diana, hijo Mario (y su esposa Caryn), y sus nietos Christian Joseph y Gabriella Marie, su hermano Hugo (y su esposa Lidia), su hermana Ana Luisa y varios sobrinos y sobrinas.
Por favor no envie flores. Con mucho aprecio, envien sus donaciones a Jensen Hospice and Palliative Care (jansenhospice.org).
Ana M Arias, 78, of Yonkers, NY passed away on September 19, 2017.
Ana Maria was born in Ecuador on January 13, 1939. Her parents were Bolivar Jara and Maria Hinostroza, both deceased. She married Manuel Arias and had 2 children, Diana who resides in Yonkers and Mario who resides in White Plains.
Mrs Arias emigrated to NY in 1968. She is survived by her husband Manuel, daughter Diana, son Mario (daughter-in-law Caryn), and her grandchildren Christian Jospeh and Gabriella Maria, her brother Hugo (sister-in-law Lidia), sister Ana Luisa, and several nieces and nephews.
In lieu of flowers, please send a donation to Jensen Hospice and Palliative Care (Jensenhospice.org).