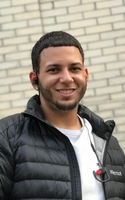 Jonathan Michael Maldonado
Jonathan Michael Maldonado untimely departed this life at the young age of 21. He was known as John Boy "JB" to his family and friends. He was born on December 11, 1995 and raised in Yonkers, NY. He graduated from Saunders High School in 2013. He was a shy, sweet, young man who loved to make everyone around him smile and laugh. He worked as a teacher's aide for the Yonkers Public Schools- Pearl's Hawthorne School since April 2017. He loved his job and enjoyed working with his students. He loved to ride his dirt bike, jet ski and paint-ball with his cousins. He is survived by his loving parents, Fredy Maldonado Sr. and Nancy Khader-Maldonado and his two brothers, Fredy Jr. , 24 and Matthew, 16. He was the beloved grandson of Eid and Lily Khader and Rady and Encarnacion Maldonado. He is also survived by his niece/goddaughter, Lilianna; as well as numerous aunts and uncles, many cousins, his girlfriend, Jylene; and countless friends. Visitation will be held on Monday, December 4, 2017 from 6:00-9:00 pm at Sinatra Memorial Home, 601 Yonkers Ave. His mass will be held on Tuesday, December 5, 2017 at 10:00am at St. Mary's Church, 103 South Broadway. His burial will follow directly after mass at Mount Hope Cemetery.
Jonathan, your life was a blessing; you are loved beyond words and will be missed forever. Always in our hearts, JB.