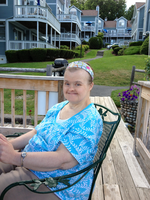 Shona McGown
Shona McGown, a lifelong resident of Yonkers NY, passed away Tuesday morning at Columbia Hospital, NYC.
Born, March 2, 1958, Shona was the Daughter of Margaret and the late Andrew McGown
Shona, in spite of her disability, lived life. She took everything in stride, walking her own path. Her strength and spirit a beacon for which we all should strive. Whether it be her family of loved ones or her coworkers and friends from her many years of dedicated work with the ARC of Westchester. She will never know how many people she touched throughout her life and in what ways but those effects are far reaching and powerful.
Shona will be survived by her loving Family and Friends and all of those fortunate to have known her, for she may have walked her own path but she did not do it alone. She will be missed immensely.
Services will be held on Friday April 13, 2018 at Sinatra Family Funeral Home, 499 Yonkers Ave, Yonkers, NY From 4 – 8 PM with a prayer service at 7PM.