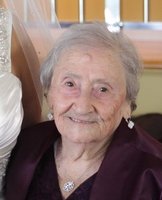 Felicia Terrigno
Felicia Terrigno died peacefully surrounded by her loved ones on April 25, 2018 at the age of 97.
Felicia is survived by her children, Maria Pisano and Antonietta Ruscitto, and her brother, Michael Terrigno. As well as, her grandchildren, Teresa Terrigno, Rosanna Pisano, Rocco Ruscitto, and Sandra Rebelo, and great-grandchildren, Joseph and Julia Terrigno, Mario, Sofia, and Nicolette Capparelli, Natalia and Rocco Ruscitto, and Marco Rebelo. She is preceded in death by her beloved husband, Luigi Terrigno and her cherished brother, Angelo Terrigno.
Felicia was born on December 4, 1920 in Macchiagodena, Italy to Filippo Terrigno and Luisa Manocchio. Felicia married Luigi Terrigno, on June 24, 1942. Over three years, the couple had two children and Felicia taught them about agriculture, religion, and the importance of family. Her children remember her as a loving, independent, religious, caring, and selfless mother who loved and was loved by all.
Felicia was accomplished at crocheting, singing in the choir, and cooking. And often showed devotion to taking care of her elderly family members. She was a very kind and humble individual who loved her family and friends. She was passionate about her Catholic faith and the Church of Incoronata in Macchiagodena, Italy. She will be greatly missed and leaves us an example which we should all live by.
In lieu of flowers, the family of Felicia Terrigno asks that you please send donations, in her name, to St. Jude's Hospital at:
http://giftfunds.stjude.org/feliciaterrigno