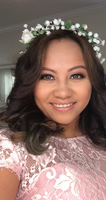 Mayven Monis
Mayven Monis, resident of Yonkers, NY, gained her wings at the age of 32 on the 31st day of May 2019. She was born in Mandaluyong, Philippines on August 29, 1986. Mayven is survived by her daughter, Maia Yzabella; parents, Isabelita and Venancio Monis; brother, Mart; grandmother, Pacita Cabarloc; aunts and uncles; cousins; nieces and nephews.
She was a devoted mother, loving daughter and sister, adoring granddaughter, thoughtful niece, and a great friend, who brightened up the room she walked into. Her powerful voice brought laughter and melody into this world.
The family welcomes friends and loved ones to gather and celebrate her life. Visitation is scheduled on Monday, June 3, 2019, from 05:00 PM to 09:00 PM, at Sinatra Memorial Home, located at 499 Yonkers Avenue, Yonkers, NY. Church services will be held at 09:30 AM, on Tuesday, June 4, 2019, at St. John the Baptist Church located at 670 Yonkers Avenue; followed by the burial at Mount Hope Cemetery at 50 Jackson Avenue (Jackson Ave at Saw Mill River Road), Hastings-On-Hudson, NY 10706 .
Memorial contribution and cards may be given to the family. Flower donations are requested to be in white and/or blue.