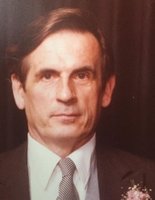 Frank Honc
FRANK ROMAN HONC, a Yonkers NY resident for over 57 years, passed away on Monday, August 5, 2019, at age 91.

Frank was born February 7, 1928 in Strzeszyn, Poland, to the late Jozef and Anna (Bartosz) Honc. During World War II, as a young man of 13, he was taken from school to a German work camp for over a year. He continued his education after the war ended. He married Janina Wawak on June 1, 1951 in Poland, and they had 2 daughters. The family emigrated to the U.S. in March 1962. A former teacher/principal in Gorlice, Poland, Frank worked many jobs locally to support his family (as a house painter, stocking shelves, factory work, etc.) while taking English classes at Columbia University. Using his excellent knowledge of math & chemistry, Frank worked as a research scientist with Ciba-Geigy Corp. in Ardsley for over 25 years. He was credited with helping develop many pharmaceutical products for the company, which remain on the market today. After retirement, he loved to build, draw/paint, and be with his family, especially his grandchildren. He was a longtime parishioner of St. Casimir's Church.

Devoted father of Anna and her husband Ted O'Lear, and Freda and her husband John Rogener. Beloved grandfather of Lauren (Chris), Christopher (Jessica), and JJ (Annie). Loving great-grandfather of Matthew, Michael, Jason, and a new great-grandchild, expected in January 2020. He is also survived by several nieces and nephews. He He was predeceased by his wife Janina in 2009, his sister, Maria, and brother, Adam.

"A truly loving, and hard-working, husband, father, grandfather, and great-grandfather, whose first priority was always his family. He will be greatly missed and always cherished."

Visitation will be on Friday, August 9, 2019, from 4PM to 8PM, at Community Home for Funerals. Mass of Christian Burial will be celebrated on Saturday, August 10, 2019, in St. Casimir's Church, at 10AM. Interment will follow at Mount Hope Cemetery.

In lieu of flowers, donations in Frank's memory, may be made to St. Casimir's Church.