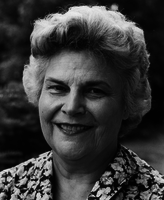 Frances D. MacEachron
Frances DePuydt MacEachron
(March 13, 1925 – August 8, 2019)
Frances D. MacEachron, mayor of Hastings-on-Hudson, N.Y. from 1981 to 1993, died on August 8 at her residence in Sleepy Hollow, N.Y. She was 94. She and her family moved to Hastings in 1954, where she lived until 2005, when she moved to Kendal on Hudson in Sleepy Hollow.
From 1968 to 1976, she was a member of the Hastings Board of Education, including two years as president. She was also active in the League of Women Voters, the Hastings PTA, the Lyndhurst Board, and the Westchester Community College Foundation Board. A gifted soprano, she sang professionally in the Grace Episcopal Church choir in White Plains, N.Y. for nearly 30 years, beginning in the early 1960s.
Born March 13, 1925 in Des Moines, Iowa, Frances DePuydt MacEachron, daughter of Frank and Manda (née Lonning) DePuydt, was raised in Des Moines also. Her father was an industrialist, and her mother was a homemaker. Mrs. MacEachron graduated from the University of Iowa, and received a M.A. in history from Radcliffe College, where she was a member of the Harvard-Radcliffe chorus.
Mrs. MacEachron and her husband of 42 years, David W. MacEachron, were married in Cambridge, MA in 1947. The lived in Paris from 1949 to 1951, where Mr. MacEachron was with the Marshall Plan, followed by three years in Washington, D.C. before moving to Hastings. Mr. MacEachron led The Japan Society for 16 years until his retirement in 1989, and prior to that he was vice president of the Council on Foreign Relations for over 10 years. He died in 1990.
Mrs. MacEachron was also pre-deceased by Dr. John M. Kinney, her domestic partner of 13 years, in January 2011. Dr. Kinney had been a professor at Columbia University's College of Physicians and Surgeons.
Mrs. MacEachron is survived by her daughters, Susan MacEachron of New York City and Laura O'Callaghan of Maryland; her son, Daniel MacEachron of New York City; five grandchildren; and her sister, Janet Metcalf of Des Moines.
A memorial service will be held on Tuesday, August 27 at 3:30 pm at Temple Beth Shalom located at 740 N. Broadway in Hastings-on-Hudson. In lieu of flowers, her family suggests that in her memory donations may be made to the Westchester Community College Foundation. (https://www.sunywcc.edu/about/foundation/make-your-donation/)»(Do not delete this line. It does not print. Text that is to appear on web must be entered before this line)