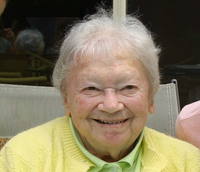 Margaret "Gitte" Gehres
Margaret Gehres passed away on August 28, 2019, a week shy of her 94th birthday. Margaret was born in 1925 in Tscherwenka, Yugoslavia - daughter of Ludwig and Therese Scherer. Her fondest childhood activities included the village's annual fall harvest and wine festivals.
While studying to be a kindergarten teacher, the second World War interrupted, forcing Margaret and her family to abandon their hometown and flee to Vienna. Shortly thereafter, Margaret emigrated to the United States with only a suitcase. She began a new life while managing to provide for the rest of her surviving family in Europe. Margaret settled in the German enclave of Ridgewood and Glendale in Queens, NYC where she held many jobs including a cookie packer at the Sunshine Cookie Factory, a machine operator in a knitting mill, and a bookstore office assistant. During that time, she experienced New Year's Eve in Time's Square, frequented the Long Island beaches, became a citizen, and proudly voted for Eisenhower.
In the early sixties, Margaret married Dr. Ernst Gehres from her Yugoslavian hometown, began a family, and moved to Mt. Kisco, NY after a short detour in Grand Island, NY. Margaret loved spending time on the water, family vacations on Lake George and Lake Winnipesaukee as well as boat rides on lakes and rivers. In 2010, she moved to the Hearth in Southbury CT, to be closer to her daughter and family.
Margaret loved to walk, never learning to drive. From the hills of Vienna to the hills of Mt. Kisco, and later in Connecticut, she never slowed down (not even after a broken hip at age 91). This love of walking kept her spry and healthy throughout her life. Her other passions included playing the piano as well as reading biographies, historical novels, and People magazine. She also enjoyed watching tennis, figure-skating, and Dancing with the Stars. Throughout these times, she continued yearly pilgrimages to her old German neighborhood in NYC. Most of all, Margaret loved to spend as much time as possible with her four grandsons. "Omi" loved playing board games with them, attending their musical endeavors, and waving at her grandkids as they passed by on the bus to summer camp.
Margaret is predeceased by her husband Ernst and sister Karoline. She is survived by her son Rainer and his wife Janet of Wallkill, NY, and daughter Sylvia Kelbley and her husband John of Southbury CT, and grandchildren Joshua, Peter, Alex, and Andrew.
A private funeral will be held, and a Memorial Service will be announced at a later date. In lieu of flowers, Memorial Contributions may be made to an organization of your choice in honor of Margaret Gehres.»(Do not delete this line. It does not print. Text that is to appear on web must be entered before this line)