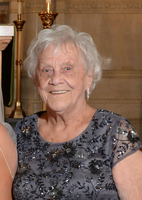 Marguerite P. Nyemchek
Marguerite Nyemchek, a longtime resident of Hastings-on-Hudson who most recently lived with her daughter Elizabeth and son-in-law Stephen in Cortlandt Manor, died at Hudson Valley Columbia Presbyterian hospital with her family by her side on Saturday, August 31st, at the age of 92.
Born February 21, 1927 in Yonkers NY, to Matthew and Viola O' Brien. She worked for Otis Elevator Company and also owned and operated several businesses in Yonkers, NY. Beloved mother, grandmother, great-grandmother and great-great-grandmother to so many, she lived a wonderful and blessed life. She was able to witness her family grow to 5 generations and always said how much she loved all her babies. Our Mom & Granny ran the show until her last breath. She let us know several times over the last few days "I'll go when I want to go." Our Granny now adds to her list of jobs "Guardian Angel."
She is survived by her children: daughter-in-law Joan Guanlao of Columbia, SC; daughter-in-law Lonnie Wylong of Shrub Oak, NY; son William Wylong of Yonkers, NY; daughter-in-law Marianne Wylong; son John Nyemchek and his wife Cathi of Valley Cottage, NY; daughter Elizabeth Kertis and her husband Stephen of Cortlandt Manor, NY; son David Nyemchek and his wife Suzanne of St. Louis, MO; son Spencer Nyemchek and his wife Elena of Teaneck, NJ; daughter Anna Trombley and her husband Paul of DeKalb Jct, NY.
She is survived by 24 grandchildren: Melia, Krista, Jonathan, Wayne, Dorothy, Mathew, Katrina, Jeanette, Bryan, Jamie, John, Joshua, Joseph, Loretta, Stephen, Brendan, Victoria, Valarie, David, Marcus, Christopher, Katelyn, Franchesca, and Randy.
She is survived by 33 great-grandchildren: Austyn, Noah, Lydia, Phoebe, Haley, Kaydee, Rory, Olivia, Emily, Kayla, Callie, LJ, Matt, Hudson, Christian, Marco, MaryRosina, Anastasia, Angelica, Jonathan, Vanessa, Steven, Aubry, Kailey, Natalia, Carlos, Mateo, Sophie, Chiara, Kamron, Karson, Teagan and Addalyn.
She is survived by 2 great-great-grandchildren, Zoey and Haylee.
She is also survived by her brother Dennis O' Brien and her sister Judy Murray.
She was predeceased by her parents Matthew and Viola O' Brien, her first husband George Wylong, her second husband John Nyemchek in 2004, her son Wayne Wylong in 2003, her son George Wylong in 2010, her granddaughter Deanna in 1979 and her great-granddaughter Angel in 2008. She was also predeceased by her brothers Matthew and Richard, and her sisters Virginia, Audrey, Anna, Mable, Joan, Carol, and Sharon.