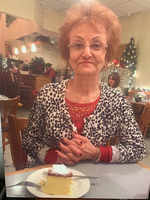 Antonietta DiMeglio
Antonietta DiMeglio passed away peacefully at her home on Sunday, September 8, 2019. Antonietta was born on January 31, 1944 to the late Salvatore and Civitta Calisi. She was raised in Ponza, Italy until moving to Bronx, New York in her teens with her family.
Antonietta is survived by her devoted sons, Silvio (Millie) and Jerry (Laura) DiMeglio; her four grandsons, who were her greatest source of pride and joy, Jerry, Anthony, Matthew and Michael; her sister and brother-in-law, Carmela and Carmine Romano; her sister-in-law Letizia DiMeglio; her brothers-in-law Pompeo and Carmine DiMeglio and many cousins, nieces and nephews.
She was predeceased by her loving husband Gennaro "Jerry" DiMeglio; her parents Salvatore and Yolanda Calisi; her father-in-law and mother-in-law, Silverio and Maria DiMeglio; her sister and brother-in-law, Margie and Vincenzo Costanzo and her brother-in-law Vincenzo DiMeglio.
Antonietta enjoyed spending time speaking to friends, family and customers at Silvio's Restaurant where she was best known for her Cheesecake and Tiramisu, as well as her various words of wisdom. When not at the restaurant, she could be found gardening, baking or sitting in front of a slot machine.
Antonietta demonstrated great perseverance, dignity and grace during her battle with cancer. Her love of family, friends and the power of a good day's work, along with her faith, overshadowed the effects of the disease.
The family will hold service at the Sinatra Memorial Home, located at 499 Yonkers Avenue, Yonkers, New York, on September 10 – 11, 2019 from 4:00pm to 8:00pm. Funeral mass will be 10:30am on Thursday, September 12, 2019 at Sacred Heart Church in Hartsdale, New York.
In lieu of flowers, friends may contribute to the Mesothelioma Applied Research Foundation. The link to the donation page is: https://curemeso.salsalabs.org/tributepages/p/inmemoryofantoniettadimeglio/index.html