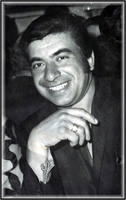 Adriano "Andy" Vieira
Adriano "Andy" Vieira passed away at the age of 84, on February 15, 2021. Andy was predeceased by his loving wife, America. He is survived by his children and grandchildren as well as many other family members and dear friends. Visitation will be held at Sinatra Memorial Home (499 Yonkers Ave.) on Friday, February 19th from 4:00 PM – 8:00 PM. A Funeral Mass will take place on Saturday, February 20th at St. John the Baptist Church at 10:00 AM followed by an entombment at Ferncliff Cemetery.
Due to COVID-19 the family asks that anyone who would like to pay their respects do so in a brief & respectful manner.