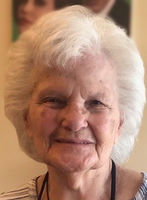 Giaconda Pasquerella
Giaconda Pasquerella, 96 years old, of Yonkers, NY passed away June 16, 2022
She was predeceased by her twin sister Violette, sisters Mary and Phyllis and brothers Mauro and Vincent.
Beloved wife of Michael, and mother to Jane, Phyllis and David, grandmother, great grandmother, aunt to many nieces and nephews and mother to all who knew her.
Born in New York City, to Adolfo and Teresa. She lived life to the fullest, having many lifelong friends and an extended loving family. She loved playing cards Saturday nights with family and watching her game shows daily.
Her family and friends will miss her dearly and the many times we all spent at Mom's house eating, talking, having coffee, and then eating some more.