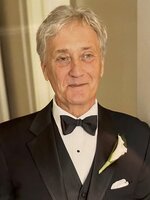 John Longo
June 20, 1940 - January 26, 2023
John Longo, 82, of Yonkers, New York, passed away peacefully on January 26th at the New York State Veterans Home at Montrose, after a wonderfully fulfilled and joyous life. John is survived by his wife, Linda, son Christopher Longo (Lisa), daughters Kerriann Longo Chirico (Salvatore) and Danielle Longo, and grandchildren Michael, Samantha, Salvatore "Champ" and Paul. His sister Marjorie and twin brother William. He was predeceased by his parents, Salvatore and Albina Longo, son John, brother Robert and sister Geraldine.
John was a dignified Navy veteran and a proud electrician who worked on the USS Shangri-La CV-38, World Trade Center and Indian Point just to name a few accomplishments.
To know John was to love him and he was often seen mastering a sodoku puzzle, singing and dancing to doowop and being the joyous entertainer in the room. Known for his spirited crystalline blue eyes, charm and clever wit, he was often heard asking "Are you behaving yourself?" and reminding people "If you don't have anything nice to say don't say anything at all!" He lived by his life motto, "Do a job big or small, do it right or not at all" and instilled that in his children and grandchildren.
In lieu of flowers please consider making a donation to Tunnel to Towers Foundation in memory of John.